SA's ports set for major revamps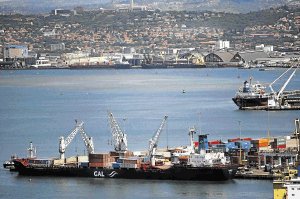 R2.2bn allocated for dockyard repairs
TRANSNET National Port Authority (TNPA) has officially started a five-year multibillion-rand project to revitalise its neglected dry docks for ship repairs and building on a national scale, starting with the Port of Durban.
The port authority said it had identified projects worth R16.8-billion to facilitate the growth of ship repair and building and of expanding its oil and gas sectors. Some of the ventures were expected to be operational by 2019.
The projects form part of the government's Operation Phakisa, aimed at unlocking the country's maritime economy.
The Port of Durban will receive its first major refurbishment in its 90-year dry dock history.
The refurbishment forms part of TNPA's R2.2-billion infrastructure repair programme at existing ship repair facilities in Port Elizabeth, East London' Cape Town and Mossel Bay.
Work will commence on its outer caisson – the watertight retaining structure – in the next four months. The 35m-long, 900-ton outer caisson forms part of the entrance between the sea and the dry dock.
Durban engineering firm Channel Construction has been awarded a R30-million contract to repair the outer caisson.
Channel Construction managing director Hafzal Razak said all the material for the repair of the outer caisson would be locally sourced.
"We are expecting to create about 69 temporary jobs and are working with suppliers in the steel industry. We are also sourcing other components domestically."
Repair work on the caisson will last until November' with a non-operational period next month and during September.
The contractor's preferred method requires a fourmonth non-operational dry dock period.
However' Durban Port manager Moshe Motlohi said a contingency plan had been implemented to reduce this period to two months to minimise the impact on industry.
Durban's dry dock had no repair bookings for September and October.
The TNPA services about 37 vessels a year in its dry dock, with its main customers cargo ships and its own fleet of marine vessels.
Motlohi said once the repairs had been completed on the dry dock' it would allow for more repairs and become more profitable.
"This time next year we will be sharing a different story on profits," he said.
The work done on the outer caisson would form part of the structured programme on the dry dock, involving a concrete refurbishment programme' replacement of crane rails' replacement of two aged electrical overhead cranes and work on the inner caisson.
-Nompumelelo Magwaza